Rewilden op het Ritme van de Stoof
Early October 2019, I decided to pay a visit to somebody I had been following online for years – awarded bushcraft instructor Johan Forsberg of Nordic Bushcraft. I contacted him, and together we decided to organise a five-day long trip in the Swedish forest.
Because of other projects, the best time for all of us (Johan, Tom, a Belgian friend who joined us, and myself) was the end of November, early December. At that time of the year, about two hours driving east from Goteborg, one can expect all kinds of weather. And that's exactly what we got.
Besides the Kungsleden Trail in Lapland, I had never before travelled within Sweden. The drive in the direction of Bottnaryd reminded me a lot of my beloved Québec, Canada. Forests, forests, and more forests, set amongst gentle hills. It was only sparsely covered, but the first snow with cold temperatures and beautiful lighted houses gave me an early Christmas feeling.
The first morning, after a typical Swedish breakfast of bread, fish and good coffee at Johan's place, we put the canoes on top of his old Saab and off we went. With a temperature of about minus 8 C, I assume that more than one Swede must have taken a second to analyse this particular scene.
Once at the starting point, with the typical nervousness and eagerness to depart, the unpacking and preparing of the canoes began, stuffing the gear wherever we could find another bit of space. Than we took off on a small, beautiful lake – one of what seemed like a million lakes in Sweden. Even at the start, I had a new, enchanting experience. I had paddled quite a bit before, but never with ice on the lake (although it was thin and easy to break).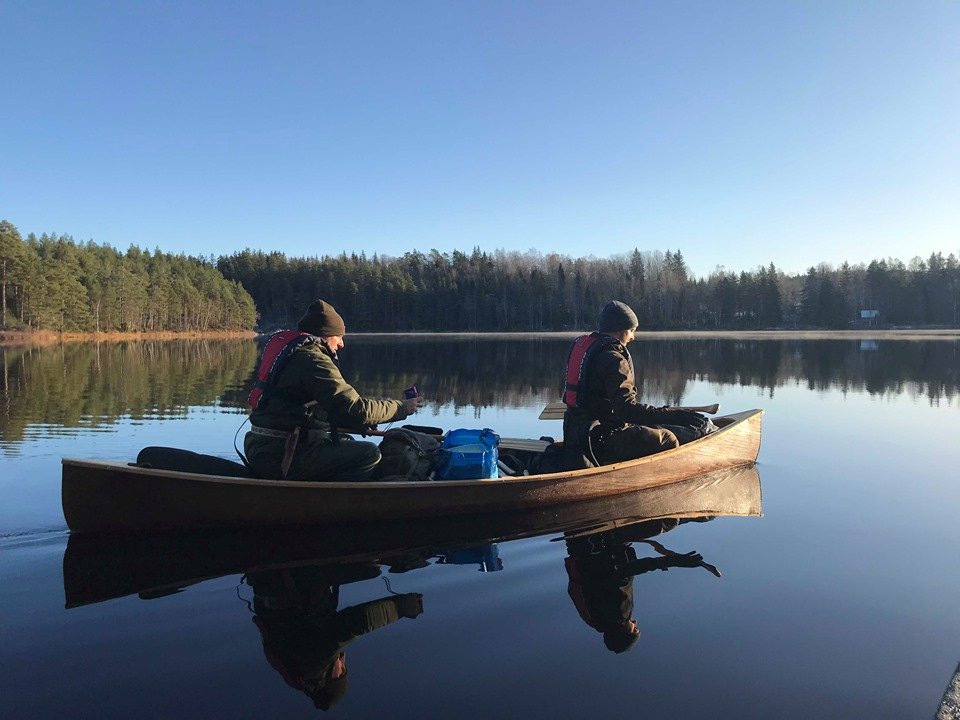 Less than an hour later, we had discovered the perfect camping spot for the following days. The weather was astonishing! The Swedish sky looked like the type of sky you only see on Instagram! The lack of wind and the warming sunshine made it all nearly as pleasant as it was adventurous.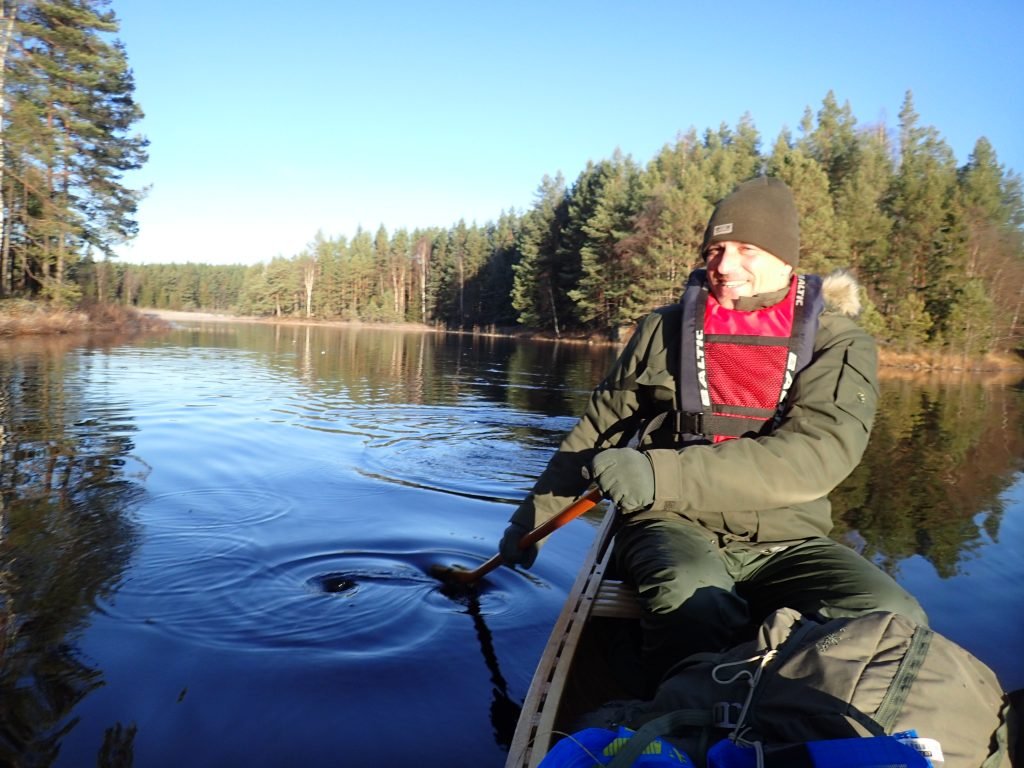 Feet on the ground, we were kind of in a hurry. A 15:20 sunset would arrive there soon, and we still had to put up camp, erect a tipi with a small stove, and chop enough wood, both for cooking and for heating the tipi. At 16:00, it was pitch dark – a big difference compared to the abundance of daylight during the Swedish summertime.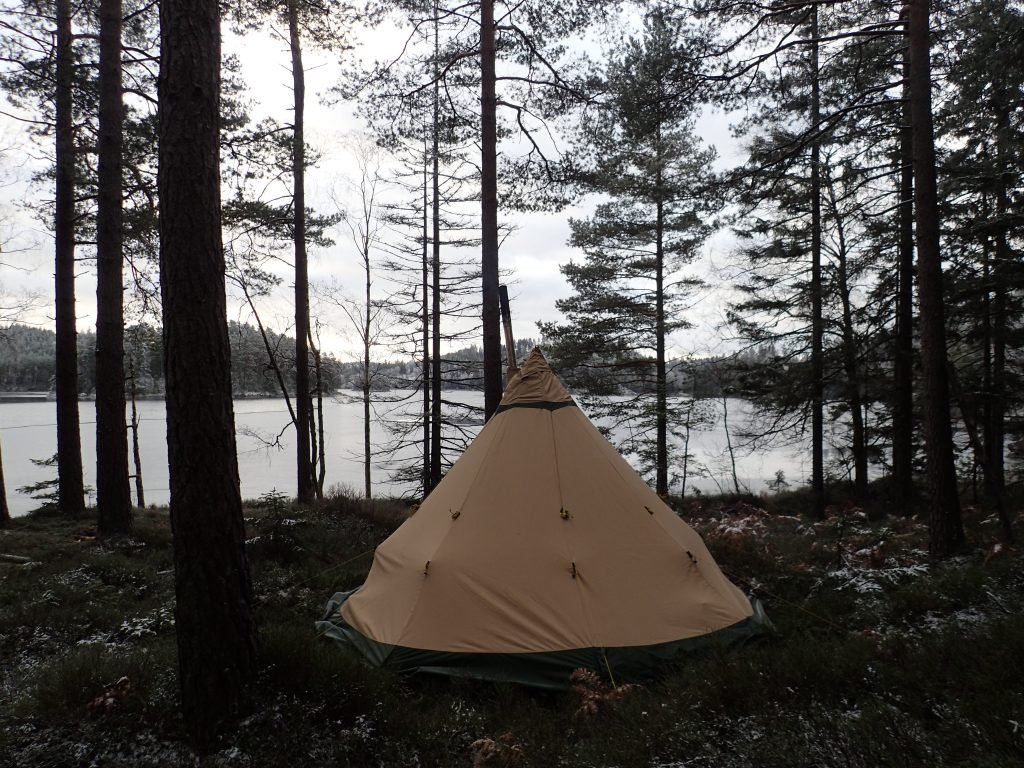 The following day, while emerging from the tipi for an early morning pee, we were surprised again. The lake was frozen with solid ice! But this wasn't really a problem for us, because we hadn't planned on venturing out. The plan of the day was making a buck saw, followed by chopping and preparing wood for the stove.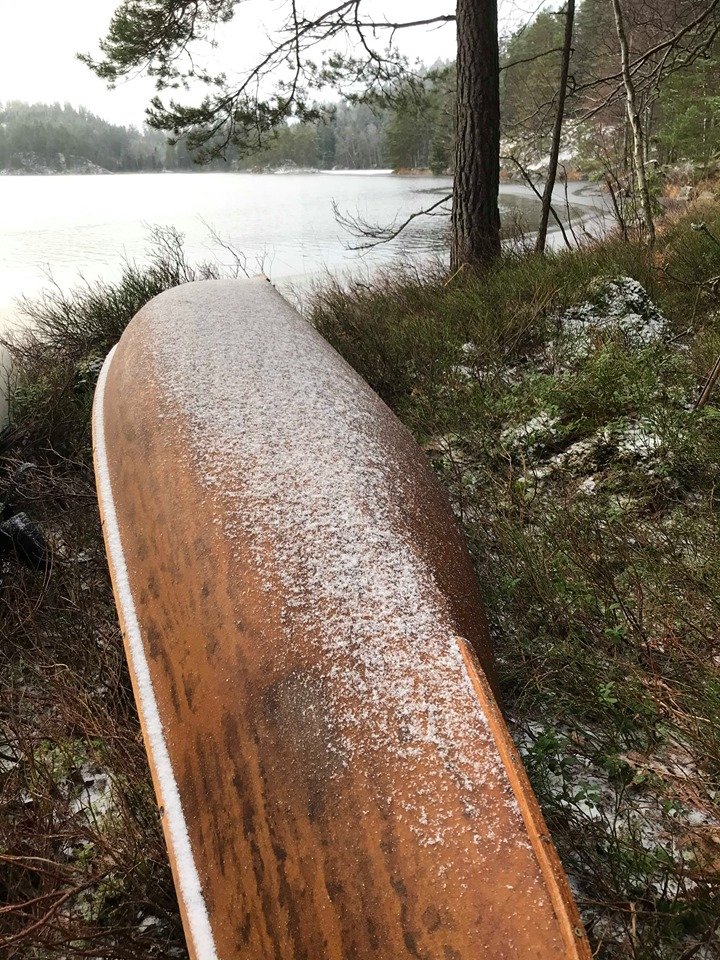 Every once in a while, we would go for a little hike just to keep warm. But these hikes were never just a hike! Distance was of no importance at all; it was more about exploring the environment and looking for the best possible wood for the stove as well as for carving and for making tools. We were also on the hunt for edible and medicinal plants to examine in detail.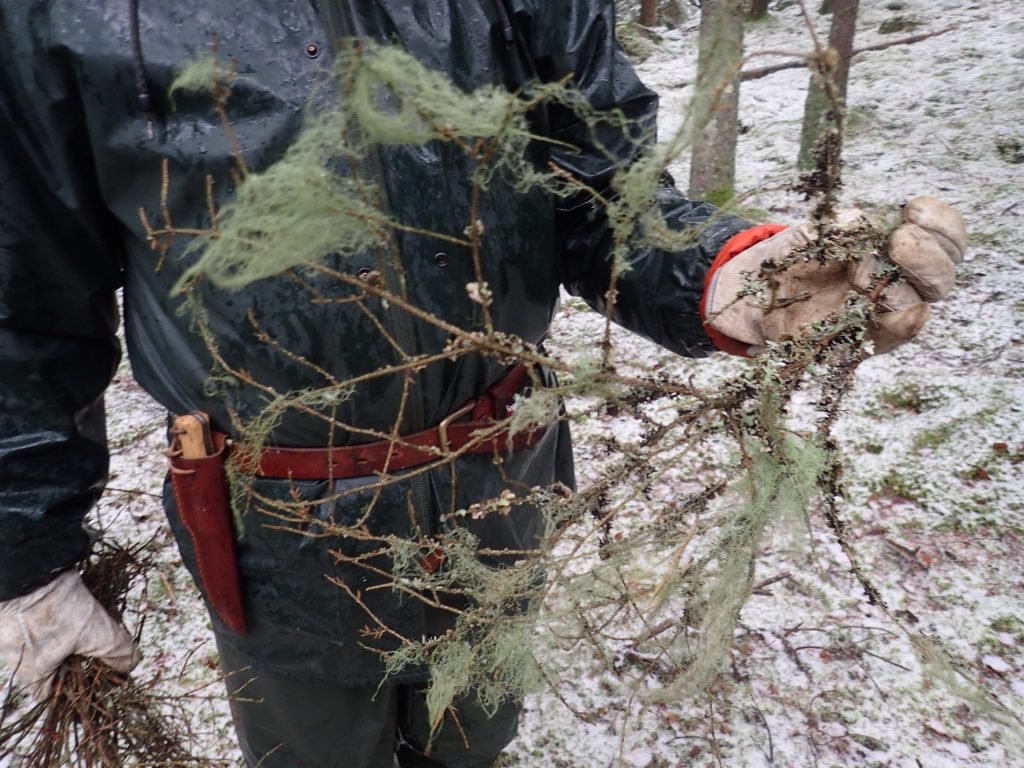 We didn't do anything special really; it was all just simple living – Nordic living, the Lagom way. Of course, we talked about the outdoors, bushcraft, survival, rewilding, the rewilding lifestyle, and, of course, gear! Tom never stopped pulling another useful, handy, or tasty item out of his backpack!
On the third day, some of the ice was gone, and we went for a short canoeing trip around the lake. By now, all the chores at camp had become routine and we had time for some more specific bushcraft and woodcarving (the bow drill, for example).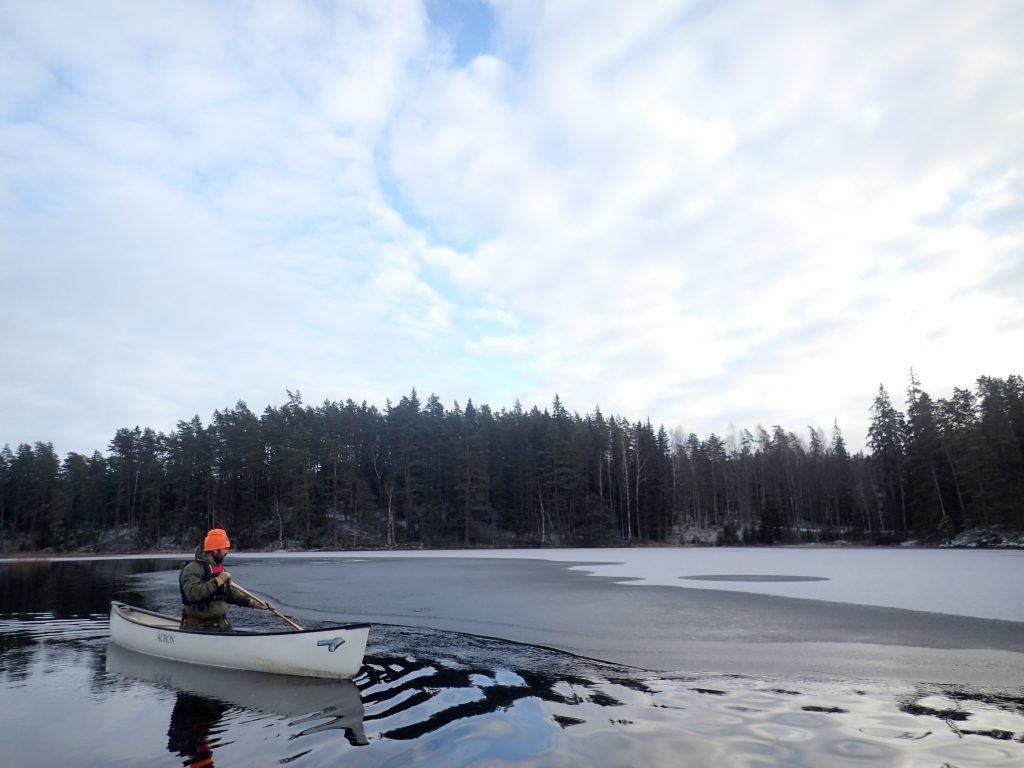 The fourth day was wet, windy, and 7 degrees plus, a big difference from the minus 10 of the past few days. Adapting to and coping with the different types of weather was both interesting and important. The ice was completely gone now; at least, that's what we thought.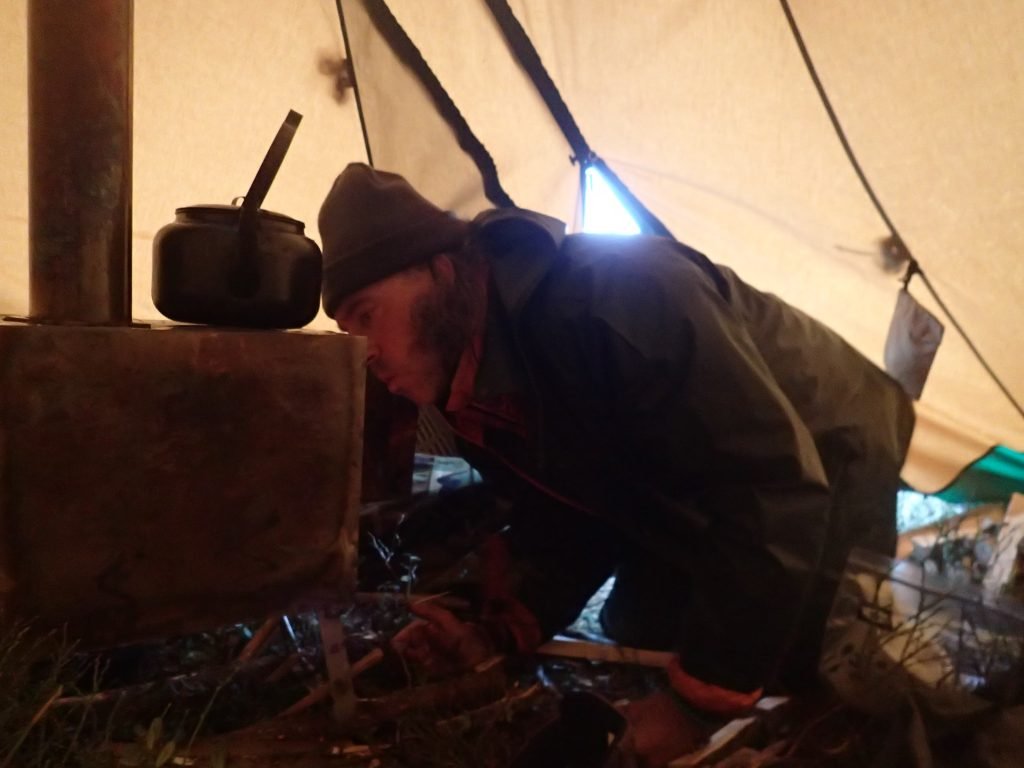 On the last day we did some more hiking and started packing. Keeping in mind the short amount of daylight, we wanted to leave camp early. We paddled slowly, enjoying every bit of it, as our Swedish Adventure was almost at an end. But … it ain't over until it's over. Behind the last corner, close to our starting point, all of a sudden we were confronted with several centimetres of thick ice. At first we could break it a little here and there with the paddles, but sooner than later we were stuck, first in the ice and later on top of the ice. Hard work and some creativity with the axes, using them as an ice axe, saved us, and we managed to get ashore just before dark.
Throughout the whole journey, Johan and I had been talking lots about the First Nations, about the Nenet and the Evenk, but mostly about the Sami. It would be wonderful if a new Sami project would emerge out of this 5 days of Nordic living.
Tak (Thank you) Johan for being such a wonderful host and thank you Tom for the many surprises you had stuffed into that backpack of yours, called the black hole.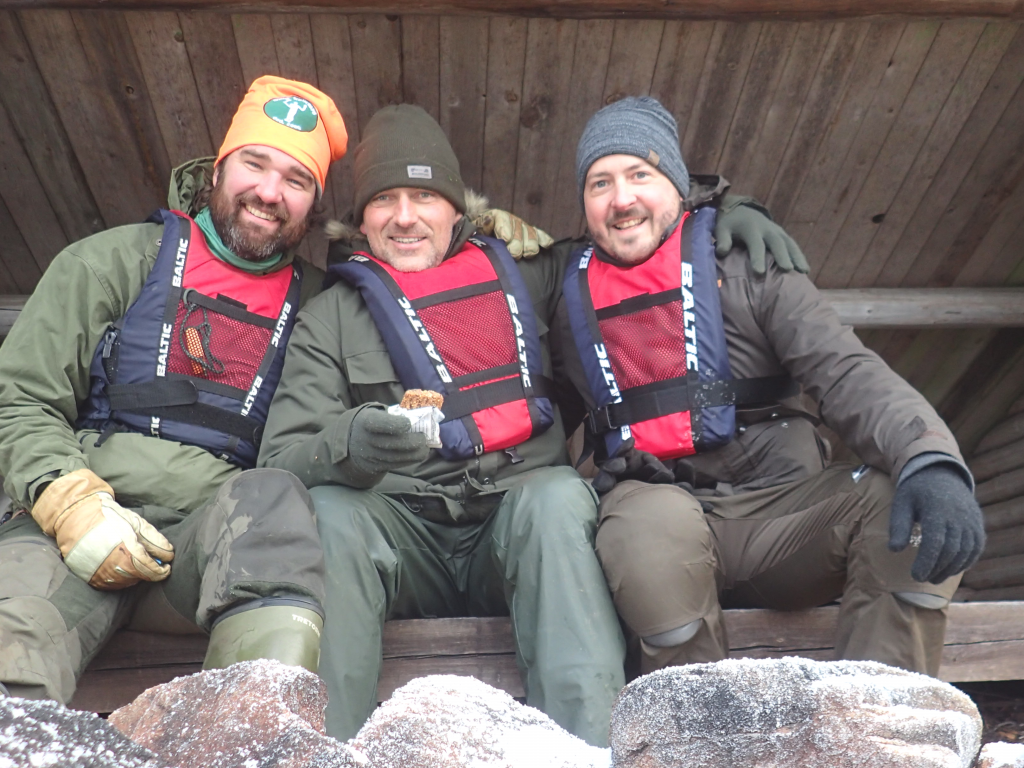 My flight was offset by GREENTRIPPER
More pictures here